A CLOSER LOOK AT MISHKA AND DONOVAN'S CLASSIC GARDEN THEMED WEDDING
No stranger to the limelight, Mishka Patel now Loesch has graced our screens with her soft demeanour, stylish looks and beautiful presence. When she said 'I do' to her beloved Donovan earlier this month, the loving pair enjoyed a chic garden celebration amongst friends and family.  A dreamy wedding celebration filled with love and romance, Mishka and Donovan's beautiful wedding was conceptualised and executed by a team of powerhouse wedding suppliers including Vredenburg Manor House, YES! Exclusive Flowers, The Flower Girl, Samantha Clifton Photography, Candice Rodrigues Photography, Bakelicious, Deetlefs, Las Paletas Ice Lollies, One Boutique Store, JEM Coffee, Bean Writer, TUX Tailor, Cathrine's Bridal Couture, Marios Jewellers and Succulent Oasis. Keep on reading to find out more about their lavish celebration.
An absolute vision of beauty, Mishka looked breathtaking on her wedding day!
THE SWEETHEARTS
The bride and groom have the most heart warming story to tell! Committing their love in front of friends and family, the pair said yes on their 8 year anniversary and boy oh boy was the love clearly visible. Mishka looked absolutely breathtaking in couture Jesus Peiro Gown for the ceremony and a jewelled strapless gown for the reception. Stylish and chic, Mishka looked ethereal in both of her wedding gowns. Timeless and classic, Erica from Cathrine's Bridal Boutique sure knows how to accent your best features. Not leaving Donovan out, the leading man of the moment looked suave in a classic tuxedo, tailored to perfection. We are loving his skinny bowtie! Handsome is an understatement.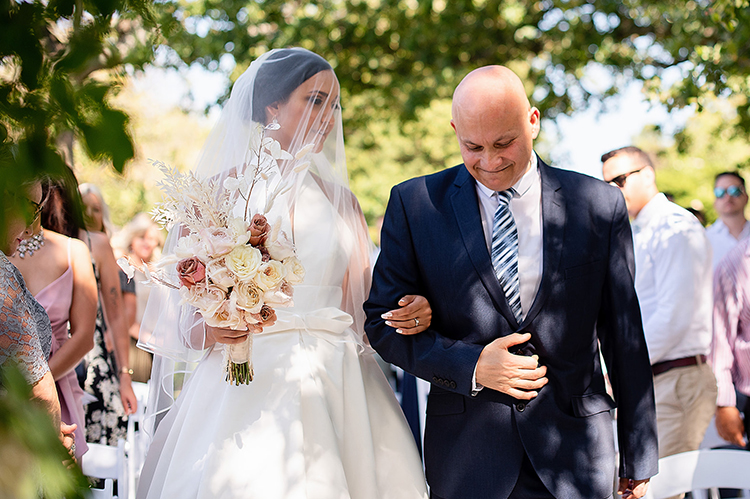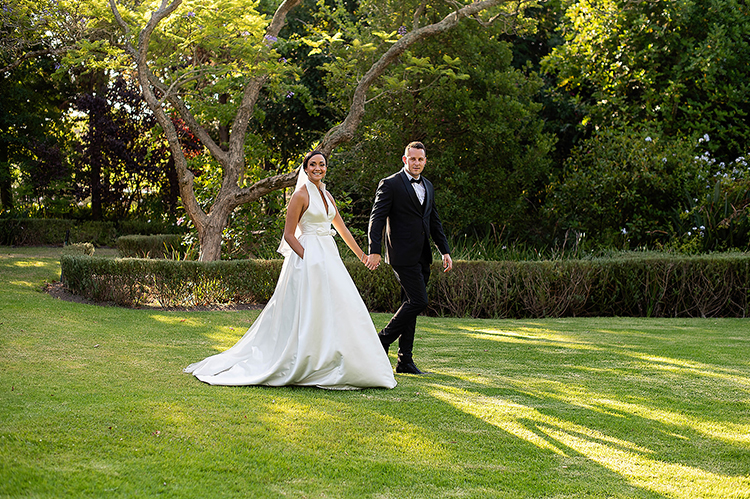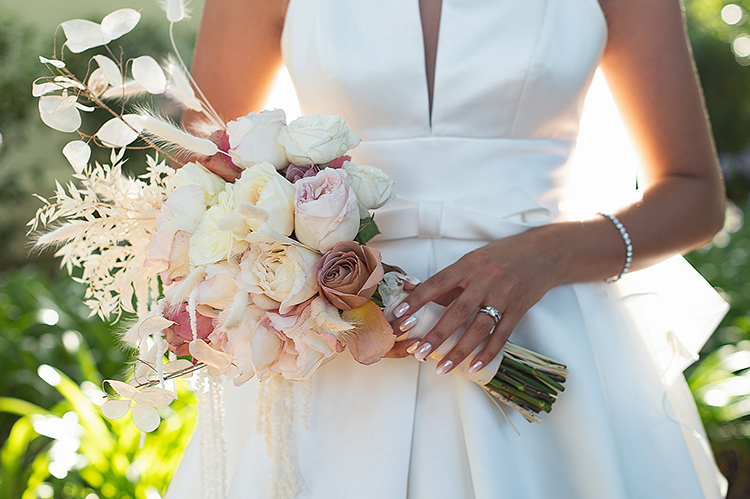 RECEPTION DETAILS
Where do you even begin with this beautiful outdoor reception? Mishka and Donovan both love the outdoors so it made perfect sense to have their wedding in four different gardens. A team of incredible and mind you, multitalented wedding professionals transformed Vredenburg Manor House into a beautiful oasis. Tones of white and champagne were accented with lush shades of greenery – classic and chic for the newlyweds. Banquet style tables were generously adorned with opulent arrangements, candles for height, crisp white napkins and metallic cutlery. The perfect combination between rustic and romantic. Needless to say but we are in love with this dreamy reception look – so pretty!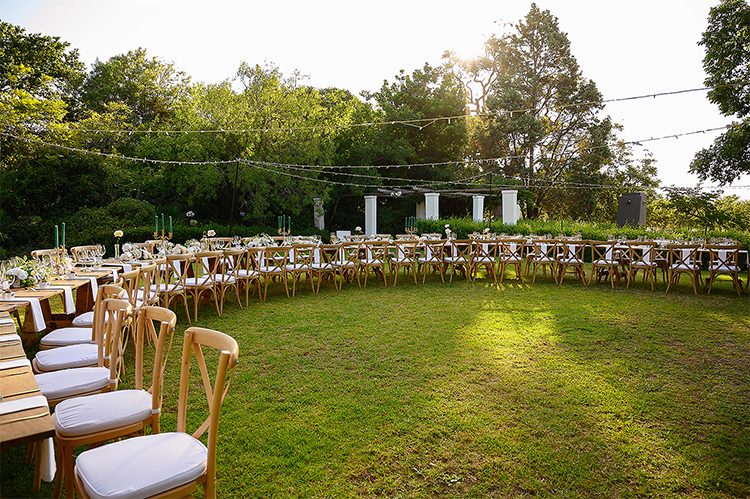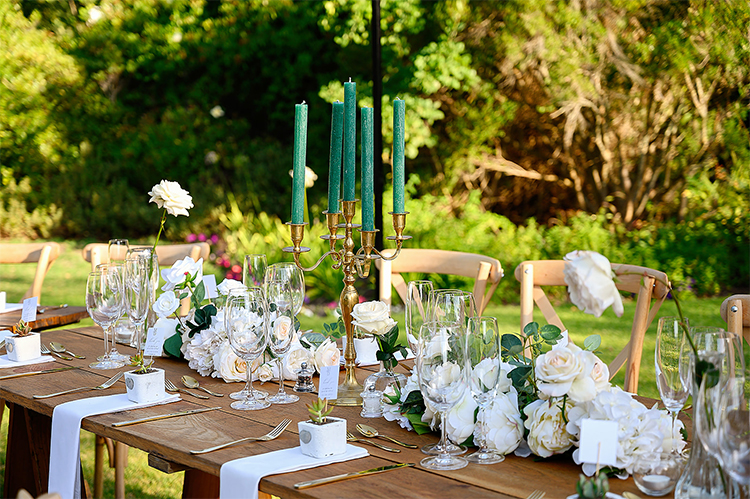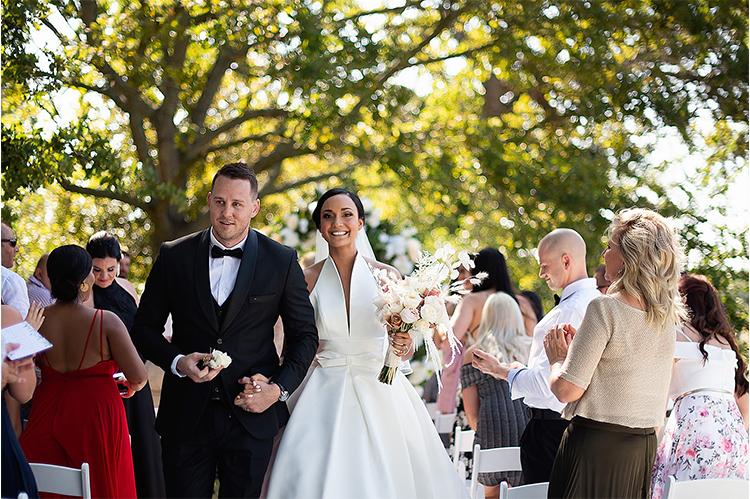 Needless to say, Mishka and Donovan's wedding was simply breathtaking and seamlessly coordinated by the best in the business! If you're keen on using these suppliers below, simply scroll to the end of this post! The leading lady behind the lens was the one and only Samantha Clifton Photography. An industry leader and ultimate girl boss, Samantha captured the joy and essence of their big day perfectly.  For more on this Real Wedding feature and to read all about their love story and the suppliers involved, click on the button below. 
SUPPLIERS INVOLVED
Samantha Clifton Photography | Cathrines Bridal Couture | The Flower Girl | One Boutique Store | Bakelicious |Deetlefs Wine Estate |Candice Rodrigues Photography | Tux Tailors | Succulent Oasis | Mario's Jewellers | The Bean Writer | YES! Exclusive Flowers | Vredenburg Manor House | Fleur Design Studio | Las Paletas | JEM Coffee