LONGER-LASTING BRIDAL MAKEUP TIPS
Ladies, keeping that bridal makeup looking fresh and flawless is a MUST. No bride is complete without a fresh face of makeup for those wedding photos and most importantly: to look and feel your most beautiful and confident self on your big day. There's just one problem! It has to last…for the entire duration of the wedding. If you are a bride wanting longer-lasting makeup then keep on reading. Together with Dr Hauschka Skin Care we have provided easy to follow tips and tricks to ensure your makeup stays put all day!
We all know the annoyance of reapplying. Not to mention keeping your makeup fresh while you drink champagne, greet your guests and when it's time for that all important "I do" smooch. As a bride you want your face feeling fresh and fabulous all day. You should feel as radiant as when you were gliding down the aisle. Our friends at the award-winning all-natural, Dr Hauschka Skin Care, are here to help.
PRODUCTS, APPLICATION AND HOW TO'S
In terms of which products to use, we have the answer for you. All natural products are definitely the starting point to make sure your makeup stands the test of time on your big day. You want products that not only stay on your face, but also products that protect your skin. Dr Hauschka embodies "an approach to skin care that complements the biology of the skin and supports long-term skin health. Because beautiful skin isn't always healthy — but healthy skin is always beautiful." –
Their products are certified all natural and cruelty-free with a vegan range of products too! Their founding mission: " to support the healing of humanity and the earth". Every decision made in the manufacture of their products is made with deliberate thought and care. The long- term health of your skin and the planet, peoples and living creatures that reside on it are all taken into account."
Sounds legitimate, right? In fact, their products are so durable that Dr. Hauschka makeup was the only makeup, which lasted through the 40+-degree C desert heat on set of Erin Brockovich in 1999. Why? Because it was completely stable and natural make up. All synthetic chemical makeup just slid off Hollywood A-Lister, Julia Roberts', face. Thinking you want a red carpet ready look for your special day? Keep reading for some tips on what to use to apply your wedding day face all included in the Dr Hauschka makeup application guide for a longer-lasting look. Here is the Dr Hauschka step-by-step guide for more durable wedding make up:
---
STEP ONE: FOREVER FOUNDATION
Before you begin applying your foundation use a light and rapid absorption day cream to moisturise and prime your skin. A lighter day cream is better than a richer one as you want your skin to be a smooth canvas for a glowing bridal look.
Once you have primed your skin, apply foundation with a foundation brush for a seamless application. You want the product to be gently stippled into your skin so that it looks evenly blended and absolutely flawless. We recommend the premium quality Dr. Hauschka foundation brush. It is slanted creating a flawless application.
Once you have a full face of foundation, apply concealer to add extra cover over certain areas like those pre-wedding stress pimples, dark circles or pigmentation. Apply a setting powder with a large brush. When applying powder, you want to place it where there is the most oil production on the face: the T zone. Expert tip: Try to follow the direction of the hair growth in the hairline to avoid getting the powder under the hair. If you wish for more coverage, Dr Hauschka recommends that you apply powder before a layer of foundation, and then powder again. This helps to set the foundation in place for longer. Here's a little tip: loose powder is good for oilier skin and compact powder is better for dry skin. Need help on how to achieve flawless foundation coverage? Take a look at this tutorial HERE to help you achieve a flawless complexion.
STEP TWO: ENDURING EYES
Now, the eyes! Ladies, the eyes are an important focal feature of memorable wedding makeup. Make sure you prep them well for all day glamour. In order to achieve this, make sure to powder your eyelids well. This will prime the canvas for your eyeshadow to last longer. If there is any moisture on the eyelid it will make the eye shadow collect in the crease resulting in an uneven and patchy look. Powder saves the day.
Once your lids are primed, start with your brows. To enhance or define your eyebrows we recommend the Dr. Hauschka eye and brow palette or a brow pencil. Once you have filled your brows to your satisfaction, tame them with the Dr. Hauschka Brow and Lash Gel. This fixes the brows in the direction you need them to stay. Move onto your eyes once you have the eyebrows as your frame. The key thing for longer lasting eyes is: eyeliner first, then eye shadow, and then eyeliner again. Liquid eyeliner can be applied as your second layer of liner for a more polished application.
Mascara application is next. Remember to apply on the top of the top lashes and then stroke them up. A useful tip: you can fix the mascara with the darkest eye shadow in our eyebrow palette. Rub your finger and thumb in the darkest shade and pinch the mascara (once dried) between the powdery fingers. This is a fantastic trick to keep those lashes looking luscious.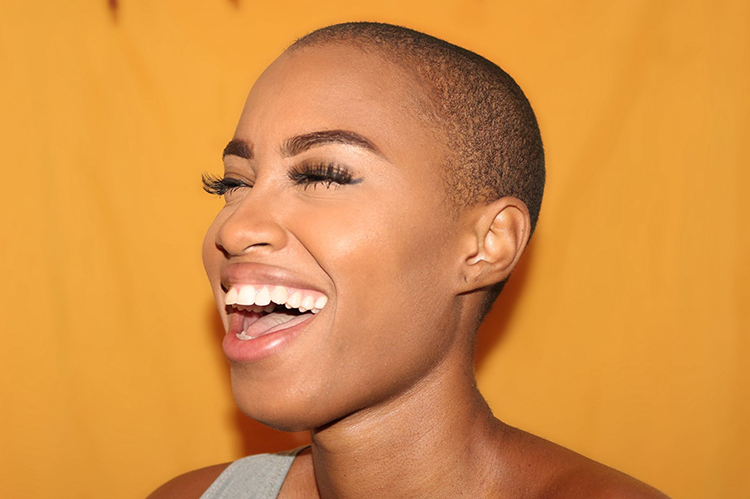 STEP THREE: SETTING THE LOOK
Your foundation is glowing and you have made your eyes pop. Now move on to some rouging for some rosy cheeks. Once your application is complete it is time to set your makeup. Makeup 'setting' spray is formulated to be budge-proof and keep your makeup right where you left it. As a bride, you'll be quite busy on your wedding day so knowing that your makeup is set ensures you can avoid worrying about it. Spritz your face with the Dr. Hauschka Facial Toner to fix the makeup you have applied. Setting the products on your face is key to making it last as long as possible! The golden rule with setting your makeup: we fix powders with liquid and liquid with powders.
STEP FOUR: LASTING LIPS
Now for the final step to complete your bridal face: lip liner and lipstick. Starting with the liner, colour the entire lips and then apply your desired shade of lipstick. An essential tip to longer-lasting lipstick: Blot with a tissue, rouge brush and powder, and then reapply the lipstick. To blot, gently place a single tissue over pouted lips and with a generous amount of rouge on your rouge brush, blot the lips through the tissue. This will fix the lipstick for as long as possible.
Pops of colour are trending this season. If you're thinking you want a bright lip to tie in your bridal look, then take a look at this tutorial from Dr Hauschka on how to achieve a red pouty lip HERE.
Voilà! You are ready for your big day with a fresh and flawless face of bridal makeup that will last.