Always wondered what advice people that work in the wedding industry have for married couples? The SA Weddings girls reveal all as they share their top tips for a lifelong marriage. Get a sneak peak into each of their marriages and see what their top tips are for a happy marriage. Whether you have been married for 21 years or 8 months, exploring each others top tips was a real treat! Keep on reading to see just what these beautiful ladies have to say!
---
—— KATHERINE BALLANTYNE: CREATIVE DIRECTOR ——
Kath is the beauty and brains behind SA Weddings and with 21 years under her belt, she sure knows the secret to a happy marriage. She reveals her top secrets. "The best advice that was ever given to me and Craig is that we come first even when kids come into the picture. Trust! Not only is it one of the most important factors in a relationship but you absolutely cannot have a normal healthy relationship without trust and respect. Respect is absolutely crucial. Communication is key! Both parties need to communicate openly and honestly. From emotional side of the relationship all the way through to financial etc. Last but not least, time. It is so important to make time for one another. Take time to laugh at silly things, laugh at each other, spend time together, go on dates and share special moments".
Kath & Craig always look this happy! We promise!
—— DANIELLE SOLOMONS: CUSTOMER CARE & SALES SUPPORT ——
Dan is an absolute energy ball and is more often than not the voice you hear at the end of a phone call! We love her creative advice. "I believe in writing letters! If you can't express your words, thoughts or feelings in a good manner, write him a letter. I get heated quite quickly and often find it difficult to apologise for what I've said during an argument. I find it easier to apologise in the form of a heartfelt letter. Writing a letter by hand instead of a text helps you to think while you write and process your emotions. I would leave the letter on his bed side table for when he gets home – that way it wont affect his day at all. Often we would speak about it later or he would just give me a cuddle. You won't keep anything bottled up and nothing will be taken in the wrong way. You can make it as long or short as you would like. As he takes time to read your letter, it will allow for him to cool off and ultimately allow you both to be more understanding and compassionate when hashing out your disagreement.

Dan & her beloved Kyle are what couple dreams are made out of!
—— KELLY THUYNSMA: EDITOR | PR & MARKETING MANAGER ——
Kelly is the marketing brains behind the SA Weddings brand and the one that ensures that you always receive hot off the press wedding musts! After a happy and loving 1 year of marriage she has some amazing advice to share. "My husband and I both believe in remaining independent throughout our marriage. For us, it's so important that neither of us loses our individuality. A healthy relationship will thrive on two independent people who decide to share their lives and build a relationship together. We both lead extremely busy lives, so making time for each other is key to a healthy relationship. Whether it's our Friday evening date night or midweek crossfit session, we love doing activities together that we both enjoy – or sometimes it's helping each other step out of our comfort zones and facing our fears. Never stop dating! Lastly, something important to remember is that Love is a commitment. Act always with integrity, care and respect towards your spouse". 
Did somebody say power couple? How cute are these love birds?
—— KARIN WALLS: HR & ACCOUNTS MANAGER ——
Karin is the real gem in the office and makes sure that we always see the glass half full! Her practical advice is easy to follow and foolproof! Just ask her, after 5 years of marriage, her darling husband is still smitten. "Always work as a team. After all team work makes the dream work and it is always better to be on the same team. Also, always remember to be each other's friend and to work on your friendship in the relationship. Communication is very important and one of the most vital and important parts of a solid marriage foundation. Work on expressing how you feel in your marriage, this will create an honest, open and loving relationship".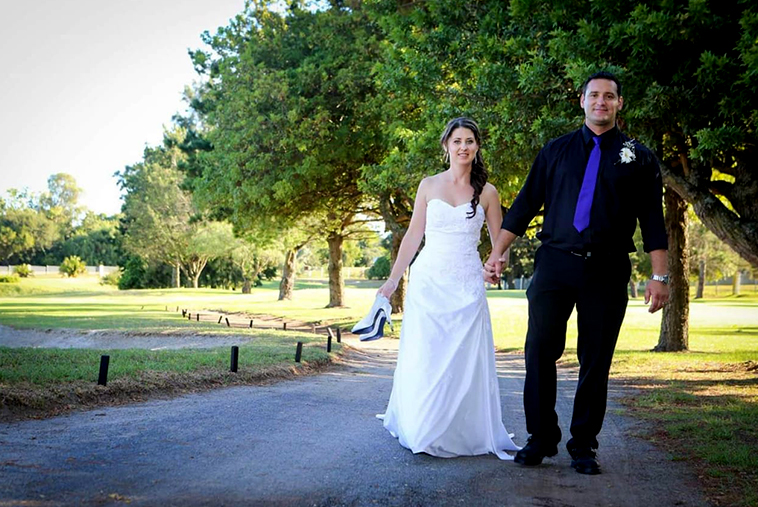 Karin & Dwayne show us that true love really exists!
—— BEATHA DESAI: SOCIAL MEDIA & CONTENT CREATION ——
Just shy of one year into a blissful marriage, Beatha is still figuring out the ins and outs of a solid marriage foundation but loves the amazing journey they are on! "The best marriage advice i can give is that you should never stop being you! Your husband (or wife) chose to spend the rest of their lives with YOU. This means the you with all your flaws too. Make a conscious effort to remain true to your authentic self. This means establishing solid boundaries and taking time to do things that lift and build up that gorgeous woman inside. You can ask the girls in the office – a personal day is a must for me! Personal days are designed just for you to recharge your batteries and spend some QT with yourself! Also, when you are in a high pressure situation and tempers flare, have a safe word or sentence that you and your partner choose. This word is a time out and communicates to your partner that you need some time, you acknowledge what they are saying, they have been heard and that you need some time to process your feedback. Trust me it has saved us from many ugly arguments and allowed us to grow as a couple too".

Beatha & Lyle are all about fun activities!
These are our top tips what are yours? We would absolutely love to know your top tips on making sure that beautiful marriage flame keeps burning! Comment below with your must follow advice – after all, happy wife = happy life!