Earlier this year, SA Weddings had the privilege of being part of the selection process of the "Win a Wedding Competition". A competition that saw thousands of entries from all over to win the ultimate dream wedding prize. Suene and Dane were the lucky winners and boy oh boy, what a celebration it was. A dreamy wedding celebration filled with love and romance, Suene and Dane's beautiful wedding was conceptualised and executed by a team of powerhouse wedding suppliers including Warren-Stone Weddings, Nooitgedacht, Mable M Flowers, N Concepts & Designs, Bronwyn Tod Photography, YES Exclusive Flowers, Wades Cakes, Gerry Liberty, Chantelle Bee Bridal and Evening Gowns, Secondluke Films, DJ Ricky H, Gorgeous to Go, Troues in die Wynland, G Studio Branding Agency and Weef.
An absolute vision of beauty, Suene looked breathtaking on her wedding day!
THE SWEETHEARTS
The bride and groom have the most heart warming story to tell! As high school sweethearts, this incredible pair found love at an early age and it was clearly visible at their wedding celebration. Suene looked absolutely breathtaking in a bespoke Chantelle Bee wedding gown. Using her matric farewell gown as inspiration, Suene looked ethereal in a Grecian inspired gown with delicate lace details, sultry open back and soft flowing bottom. Didn't she just look breathtaking? Dane looked handsome in a three piece suit, tailored to perfection with the most incredible leather accents from Weef. So stylish!
RECEPTION DETAILS
Ah where do we even begin! A team of incredibly talented and creative wedding professionals transformed Nooitgedacht into a magical garden of Eden. Sunset shades, lush florals, rustic details and metallic accents were the order for the day and my goodness, didn't it just look breathtaking? Mable M Florals, N Concepts & Designs and Troues in die Wynland combined their unique skill sets to create Suene and Dane's dreamy wedding celebration. Fresh florals runners, lots of candles, bespoke lighting options and some incredible DIY elements turned this wedding celebration into an enchanted fairytale. Needless to say, we are in love with this trendy reception look all beautifully coordinated by Warren-Stone Weddings.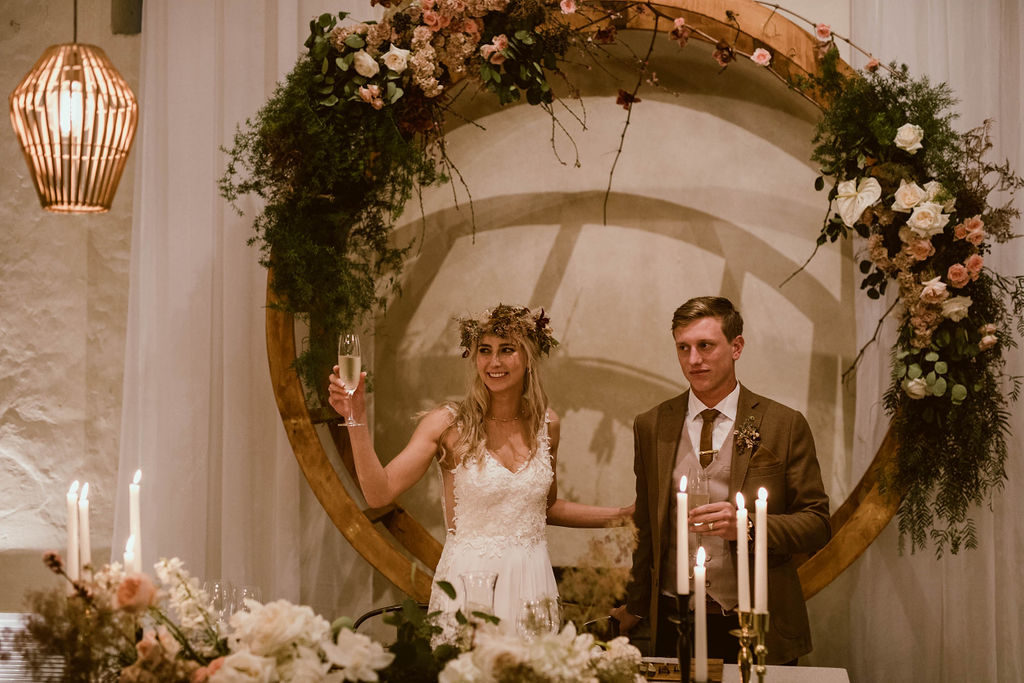 Don't you just love the gorgeous wrap around menu and gold foil detail?
The cake from Cakes by Wade is almost too pretty to eat! We love the textural detailing and fresh florals.
Needless to say, Suene and Dane's wedding was simply breathtaking and seamlessly coordinated by the best in the business, Warren-Stone Weddings. Chelsea is an absolute powerhouse and has the most incredible eye! Did somebody say wedding goals? The leading lady behind the lens was the one and only Bronwyn Tod Photography who captured their forever fairytale in the most real and authentic way. For more on this Real Wedding feature and to read all about their love story and the suppliers involved, click on the button below. 
SUPPLIERS INVOLVED
Warren- Stone Weddings, N Concepts & Designs, Nooitgedacht, YES Exclusive Flowers, Gerry Liberty, Chantelle Bee Wedding & Evening Gowns, Secondluke Films, DJ Ricky H, Bronwyn Tod Photography, Gorgeous to Go, Troues in die Wynland, G Studio Branding Agency, Mabel M Florals, Weef, Cakes by Wade