It is finally time to start dress shopping and with so many options around, the task itself can become quite overwhelming. Ladies, you know how important choosing your wedding dress is and let's be quite honest, it really is the pièce de résistance of your special day. When you look back on your wedding day, you want to remember how beautiful you felt when slipping it on and seeing yourself in its most perfect state. But how do you go about choosing the one with so many options, prices and designers available? Fear not, our handy set of tips will make choosing your dream a simple and stress free task.
---
——    START WITH A BUDGET AND STICK TO IT   ——
It is no secret that custom made designer and haute-couture bridal gowns will cost a pretty penny, and have you digging deep into your pockets. Set a realistic budget before starting with your dress shopping. This will help you have a focused idea when trying on dresses and will limit the urge to try on dresses that are way out of your price range. It is the worst kind of torture setting your heart on a bridal gown that you know is out of your price range and then comparing every dress you try on after to that one. Be realistic about the amount you can spend and then visit boutique and bridal showrooms which fall into that bracket.

——    KNOW YOUR SILHOUETTE    ——
Now that you have a clear budget in mind, have a look at your silhouette and see what will work best for you and flatter you in all of the right places. Luckily for you, if you are a little unsure of what would suit your figure when going for a bridal consultation, the bridal stylist or designer will go through the varied silhouettes available and advise on what would suit you best. Ladies, listen to the team assisting you! They have done this countless times before and their end goal is to ensure you look as good as you feel on your special day. You will have the opportunity to try on varied silhouettes so remember to remain open minded – sometimes it is the silhouette that you least expect to suit you that ends up looking the best!

——    SHARE YOUR VISION    ——
At the end of the day it is your BIG day and we want you to feel and look fantastic. Share your vision with the bridal studio you are visiting so that you are all on the same page. If you opt to have your bride tribe alongside you when dress shopping, inform them too so that they also understand what you would like and help keep you focused. There are so many beautiful gowns available and the process itself can become overwhelming with all of the options. If everyone is on the same page, you are guaranteed dress success.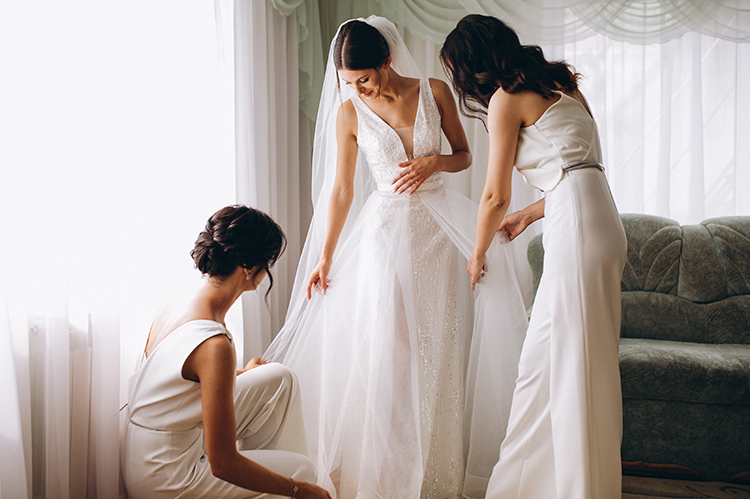 ——    START SHOPPING    —— 
Let the games begin! Jokes aside, first and foremost you should enjoy the process and all that comes with it. It is really quite something seeing yourself in a beautiful bridal gown for the first time (cue the tissues now..). Listen to your bridal consultant and play around with the gowns you try on. Pay attention to the delicate details, how it frames your body, how the train lies, if you can sit comfortably and so forth. You want to be as comfortable as possible as you will be moving around quite a bit on your wedding day. Be open to alterations and suggestions from your bridal studio and bridal squad – sometimes you can overlook something that you may regret later! Trust us, the smallest tweak here and there makes the world of difference.

Gorgeous dresses from Cindy Bam Couture
——    FINISHING TOUCHES    ——
Now that you have said YES to your dress, it is time for the finishing touches. Be sure to complete the necessary alterations to your dress to ensure it fits like a glove. Leave enough time to do this, especially if your gown requires larger changes. Take some time to shop around for the perfect accessories which compliment (not compete) with your beautiful gown. When the day finally arrives you not only will you feel utterly luxurious but you will look it too! With these fool proof tips and tricks, saying yes to the dress will be one of the quickest things you can tick off that to do list. Visit our amazing dress designers and boutiques HERE to start this magical process.