SA WEDDINGS TAKES A TRIP TO FRANSCHHOEK
Is there anything more tranquil than visiting the Winelands? Clean crisp air, beautiful views and top of the range wines and food certainly ticks all the boxes at SA Weddings HQ. When La Fontaine Boutique Hotel approached us for a stay in their boutique hotel, needless to say we were absolutely delighted. It is no secret that luxury property group, The Oyster Collection is well known for their incredible properties with dreamy interiors, mouthwatering meals and all round ambience. Needless to say La Fontaine Boutique Hotel was a total feast for the eyes and certainly lived up to its stellar reputation. Keep on reading to find out more about our amazing stay. 
ALL ABOUT LA FONTAINE
"This newly refurbished 4 star boutique hotel in the heart of Franschhoek has been beautifully appointed with rich colours and luxurious finishes. Just an hour's drive from Cape Town, situated in the peaceful Franschhoek Valley, La Fontaine is as close as you can get to the town's award-winning restaurants".
From the minute we arrived to the very last second that we left, the service at La Fontaine was nothing short of perfect. No stone was left unturned and we left the premises feeling like absolute royalty. Even with the Covid-19 safety measures, it never felt invasive or took away from the experience this magical boutique hotel offers. Kim was the first face that greeted us and WOW is all that we can say. Professional, friendly and a master of her craft, Kim delighted us in a personalised full tour of the property. If you're a sucker for interior design then be prepared for a total feast for the eyes.
Boasting 17 large suites, each room has lavishly been decorated with individual themes and character. Fit with modern luxuries and amenities, La Fontaine Boutique Hotel is the perfect home away from home. Only a short walk away from the town centre, you have the best of both worlds in this tranquil 4 start hotel. If your main goal is some R&R, stay in and enjoy the serene gardens budding with new blooms and two swimming pools, all beautifully highlighted by the majestic mountain backdrop. How dreamy?
EXCELLENT SERVICE
If you have ever had the great pleasure of staying at any of The Oyster Collection properties, you will certainly note the excellent service. Leaving no stone unturned, every single detail is carefully taken care of by their experienced team. Priding themselves on always providing a superior service, expect nothing but the best throughout the duration of your stay. Both Justin the manager of the property, and Kim, the manageress ensured we were well looked after and their years in the hospitality industry shone through. An absolute treat and perfect for any bride or groom-to-be staying at this outstanding property.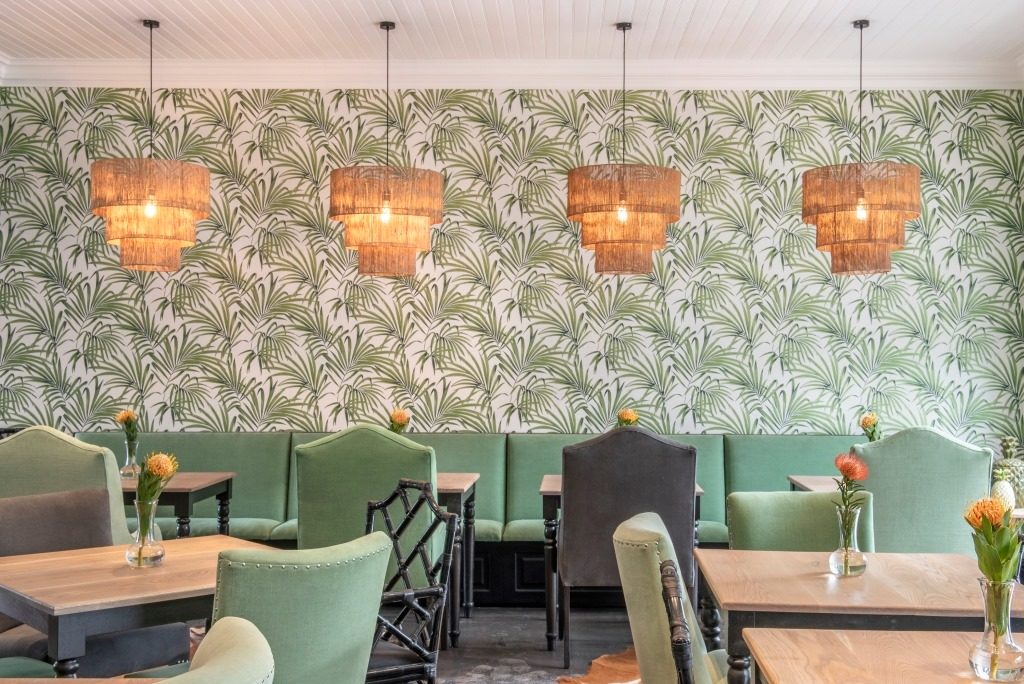 DINING
It is no secret that Franschhoek is synonymous with award winning food and wines. Only a stone throw away from the bustling high street, La Fontaine Boutique Hotel gives the guests the best of both worlds. Dine out or in, the possibilities are endless. Kath and I sampled the new casual dinner menu and boy oh boy were we in for a treat! Chef Ashleigh prepared our food perfectly, it was simply moreish! A must try for their in house guests, Chef Ashleigh's certainly knows how to make your palette dance with delight.
You heard it here first ladies and gentleman, if you're looking for an amazing intimate wedding inspiration, beautifully designed accommodation, honeymoon getaway or some good ol' fashioned bridal bonding – La Fontaine Boutique Hotel should be the first name on your lips. Thank you so much to Justin and Kim and all of the staff at the hotel for making our stay INCREDIBLE. We will definitely be back.