We get it, planning a wedding is such an exciting time and there is so much to look forward to, but at the same time it can be pretty overwhelming. There are so many things to think about and with ideas in overflow, some brides may find it a little challenging conveying what they want and selecting an appropriate décor dream team to turn their wedding dreams into reality. Your décor truly makes or breaks a wedding and no matter how big or small your budget is, your wedding décor will leave a lasting impression of your big day. Such a large part of your budget is spent here and you want to ensure that who ever you decide to use, spends that money wisely.

That being said, it is important to remember that when choosing your vendors, you want to be able to trust that your expectations will be met and your concept delivered correctly. This makes the job of choosing the right people the most important job of all. We have compiled a handy list of questions to ask your décor supplier before you decide on making use of their services.
---
——    CONCEPT DIRECTION AND HOW IT ALL WORKS    ——
It is pretty easy to get swept away with décor ideas, but remember, lavish concepts cost a pretty penny too. Talk through your décor concept with your preferred supplier and see how they can advise if and how it will work. When it comes to weddings, a large part of your budget goes towards hiring, décor elements, tableware, glassware and more. These unique elements shape the look of your concept so be sure to talk through your ideas and desired look and feel in order to formulate a workable brief. A professional supplier will listen intently and advise the best way to approach your ideas. Bring your mood boards along and let the creative juices flow.
——    HOW BROAD ARE THE SERVICES YOU OFFER    ——
Ideally, it would be best to source all your décor and hiring elements from one place. Be sure to ask your preferred vendor how broad their services are. If you can work with one company that provides florals, lighting, hiring, furniture, tableware and more, it would help your day run much smoother and make set up a breeze. Plus, you wouldn't have to run and chase after suppliers for delivery in the days leading up to your celebration. Sounds like a win to us!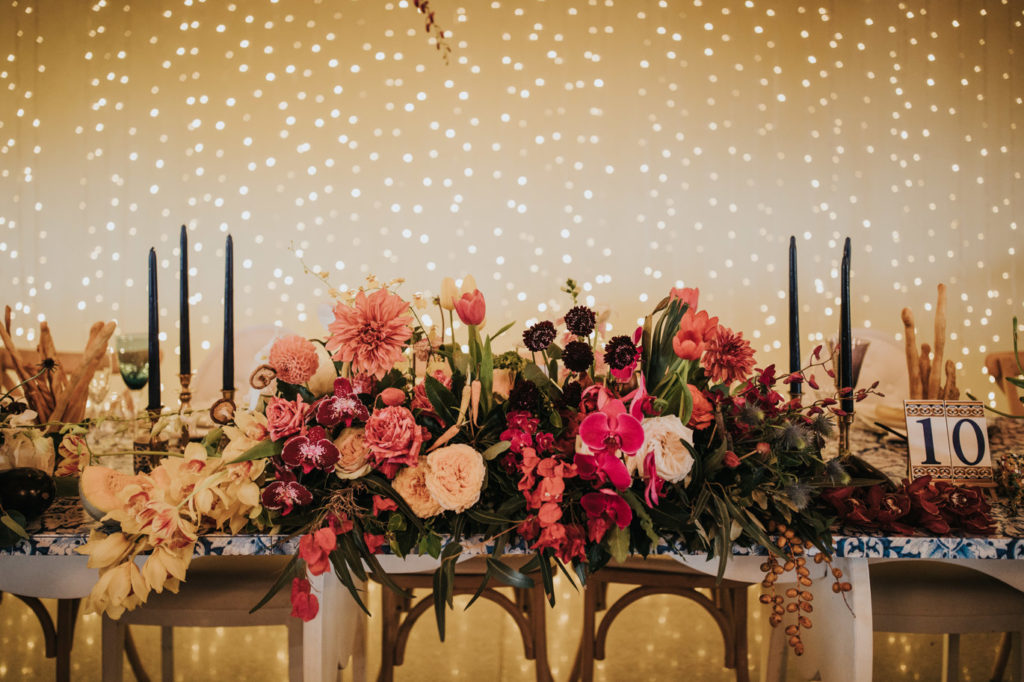 ——    WHAT IS THE BEST WAY TO WORK WITH MY BUDGET    ——
The budget is part of every bride's journey and it is so important to establish what you are working with in the beginning phase of communication. Your budget will determine the best way to approach your concept so do not be afraid to speak up. Your service provider has worked with all types of budgets and will most certainly have some handy tips and advice for where to save money, what to cut back on and what to splurge on! Listen with an open mind to ensure you get the best value for your buck and a beautiful wedding decor look. 
——    SITE INSPECTIONS    ——
Ask your service provider whether they do site inspections pre wedding. If you are lucky, they will have worked with your wedding venue before and will have a pretty clear idea of the space you are working in. Most venues have a preferred service provider list – be sure to study it. Having a clear idea of the space will open up suggestions on how best to approach it with the décor concept you have in mind. Ask your vendor, what in their professional opinion, would be the best way to approach the space based on your concept. They will know what works best and what should be avoided and best of all, they can offer insights that you might not have considered before. Bonus!
——    DO YOU PROVIDE TABLE MOCKS    ——
Never be afraid to ask this question. Some bridal couples prefer a visual of what their wedding tables will look like. This service is often included in your decor concept, but if it is omitted from your quotation ask your vendor to include this. Sometimes seeing the physical product helps you visualise what the end goal will look like and will allow you to make the necessary changes. This step is so crucial and will avoid any feelings of unhappiness and disappointment on the day.
——    TRAVEL AND SET UP COSTS    ——
This is often overlooked and can really come as an unexpected surprise in the weeks leading up to the wedding – especially if they are exorbitant. Establish travel and set-up costs in the costing phase of the process and have a feasible plan on how to work around it. We promise you, this can be a life saver! If your venue is quite far, try and source décor suppliers closer to your venue to reduce these fees.
——    DO YOUR RESEARCH    ——
Seeing a portfolio of work is such a helpful tool when deciding on a supplier. Looking at work done for previous clients showcases the vendors creativity and execution in the best light. Searching and reading through testimonials and reviews on the company will also help you build up trust pre-meeting and allow you to see first hand how other clients felt about their services. It cuts out the middle man and ensures you are working with a dedicated professional from the get go. Don't be afraid to ask for these – it may save you many grey hairs!
With these handy tips, you are guaranteed the best décor dream team for your BIG day. Be very thorough in your research and be sure to ask these questions during your meeting/s. Browse through the vendors on our site and find your décor dream team today!
Happy planning love birds xx