LEADING 2020 WEDDING INSPIRATION
WARNING! A whole lot of pretty is coming your way.
When a dream team of wedding professionals team up, you can expect nothing less but pure magic! Needless to say, what you're about to view is one of our most loved and truly magnificent styled shoots to date. From the statement dress to the luxurious tablescape, everything came together harmoniously to create something that was just the epitome of style and grace. Held at the picturesque The Cellars-Hohenhort, this luxury hotel in the Cape Winelands needs no introduction. Inspired by a neutral on neutral colour palette accented with soft pastels and metallic gold, this wedding look book is perfect for the trend setter bride that loves a little classic elegance.
---
THE BRIDAL LOOK
Geo by George, the mastermind behind this one of a kind wedding dress elevated the brief to create a chic 3 in 1 wedding dress. Not only is this opulent black and gold wedding dress pushing boundaries but it aims to inspire so many bride-to-be's that sometimes being bold and daring on your big day really pays off
THE SUITS
Kale & Co made sure our leading man of the moment Kelton Goertz looked dashing! We love the reverse tuxedo and classic navy colour combination. Tailored to perfection, Kelton certainly looked as good as he felt.
THE DECOR & FLORALS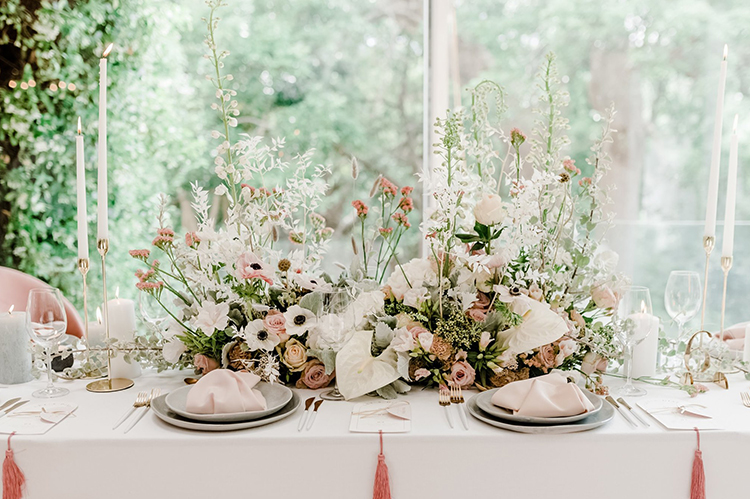 Coordinated by the amazing team at The Event Planners, Niki and Madri brought in some of the best wedding service providers to pull this concept together. Alida Gerstner-Gunter created the most incredible and lush florals for the day, The Event Architect provided the luxurious velvet dining chairs, The Tablecloth Hiring Company all the beautiful linens and Two Birds at the Dairy Shed the chic cutlery and out of this world crockery. Let's not beat around the bush, the reception and piano bar looks are absolutely stunning. Thank you ladies, without you this would not have been possible!
THE STATIONERY
Honestly we just can't get enough of this beautiful wedding stationery suite from Secret Diary. The tassels, the modern layouts, the colour palette – ah it is all so dreamy! If you're after a couture stationery suite with all the bells and whistles, look no further!
HAIR & MAKE UP
There is a reason why Cecilia Fourie Hair and Make Up is a firm favourite for so many brides! Her attention to detail and incredible execution is what sets Cecilia apart. Mahren looked absolutely incredible with her bold eyes and brows – a firm favourite for us for the 2020 season. The beautiful bridal look is perfectly rounded off with soft waves. Perfection is an understatement.
WEDDING CAR
Of course no wedding is complete without a killer set of wedding wheels! Barry and the amazing team at Classic Rides ensured our bride and groom were transported in style! The wheels of choice was a deep Burgundy 1938 Studebaker Coupe. A massive thank you to Barry – you were amazing on the day!
THE CAKE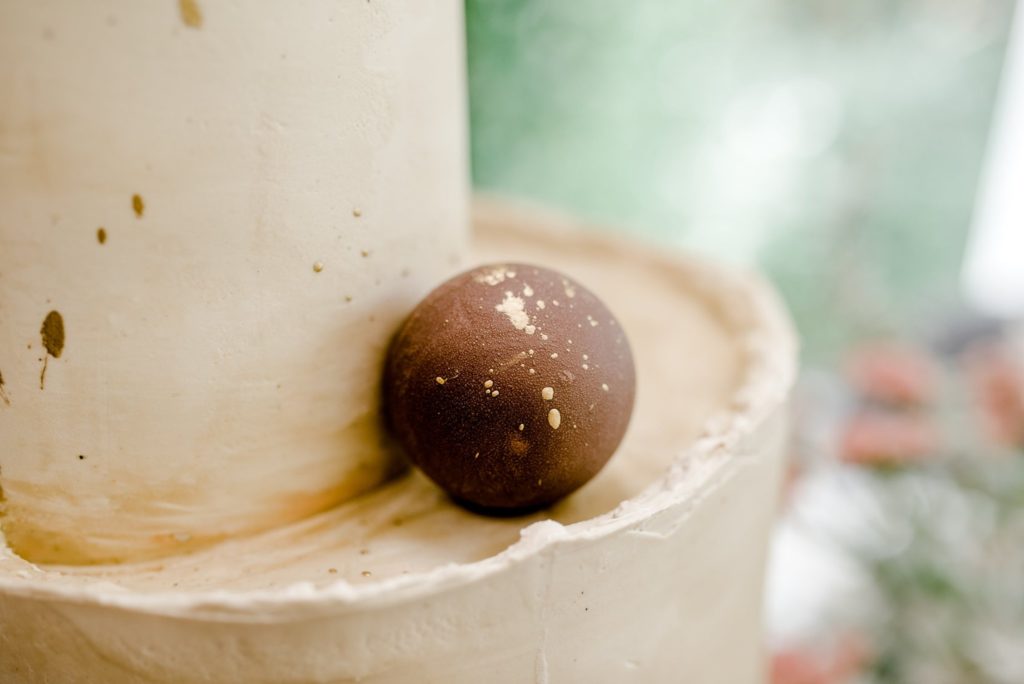 Anything that the baking babes at SweetLion Heart touch turns into edible gold and this statement wedding cake is certainly no exception. Adorned with chocolate spherical balls, metallic textures and a whole lot of WOW – this gorgeous 2 tier wedding cake is just goals.
THE VENUE
Needing no introduction, The Cellars-Hohenhort oozes luxury and sophistication at every turn. From the second we entered this famous Cape Town property, we were treated like royalty. No stone left unturned, The Cellars Hohenhort takes you on a journey of experience. From the manicured gardens to the dreamy interiors, every nook and cranny has carefully been curated to make you feel like you have simply stepped into an oasis of peace and serenity!
BEHIND THE LENS
Of course the shoot would not have been possible without the beautiful Liezel Volschenk – the beauty and brains behind Liezel Volschenk Photography. Her incredible eye and meticulous execution has resulted in the most jaw-dropping images to inspire all of you! Liezel – you are an absolute dream to work with and without you, this entire shoot would not have been possible! You truly are a master of your craft!
We were fortunate enough to have Werner from The Full Experience capture the magic of this Modern Muse Styled Shoot. A true master of his craft, Werner and his team joined us in creating all this magic. If you're keen to see what we got up to, be sure to watch this incredible highlight reel. For more on this shoot and to read what each supplier was responsible for, click on the button below.

—— SUPPLIERS LIST ——
The Cellars Hohenhort | The Event Planners | Alida Gerstner-Gunter | Event Architect | Models: Mahren Swartz & Kelton Goertz | Geo by George | Cecilia Fourie Hair & Make Up | Kale & Co | Sweet LionHeart | The Tablecloth Hiring Company | Two Birds at The Dairy Shed | Secret Diary | Classic Rides | Liezel Volschenk Photography | The Full Experience