BOHO BRIDAL WEDDING INSPIRATION FOR THE MODERN BRIDE
Together with a dream team of wedding service providers, we partnered up to create Modern Boho Bridal Bliss. A styled shoot that focuses on the must have 2020 wedding trends, decor ideas, bridal fashion and more all shot in the dreamiest destination wedding venue, Buccara Wildlife Reserve. 
Captured by the exceptionally talented By Bhavika Photography and Design – this styled shoot is a total feast for the eyes. This spring summer styled shoot inspired by a Autumnal colour palette and the natural beauty of the Karoo, is perfect for the trend setter bride that loves natural elements, minimalistic details and lush florals!
---
THE BRIDAL LOOKS
Cindy Bam Couture sure knows how to accentuate your best features with her jaw dropping wedding gowns and excellent craftsmanship. Each of her bespoke gowns is a labour of love and their timeless beauty has become her signature trademark. Needless to say, when it came to this Modern Boho Bridal Bliss Shoot, Cindy and her incredible team delivered two wedding gowns that were beyond our wildest dreams.
HAIR & MAKEUP
Carlin Loots from HealthiSkin brought the heat to this shoot with a chic and stylish bridal makeup look. Bold eyes, defined brows, bronzed finishing and highlighter in all of the right areas. Chanel looked sensational and the flawless makeup made her big beautiful blue eyes pop!
The bridal hairstyles have certainly caused a stir and showcase some of our favourite looks in bridal hair for the season. Erika Whyte from MisterCut did a phenomenal job. The statement boho wedding gown was beautifully complimented with loose bridal curls really drawing attention to the fabulous deep V in the back. The second bridal look featured a trending wedding look of the season. We are all about that textured bridal pony tail!
Vita Liberata ensured Chanel looked like a golden goddess with her beautiful spray tan. Vita Liberata tans are absolutely amazing and are not harmful to the skin – making them the pro choice for a healthy and safe glow. The ingredients are the purest in the tanning world and make use of only natural, certified organic and Ecocert ingredients ensuring that your Vita Liberta tan conditions and nourishes your skin!
THE DECOR & FLORALS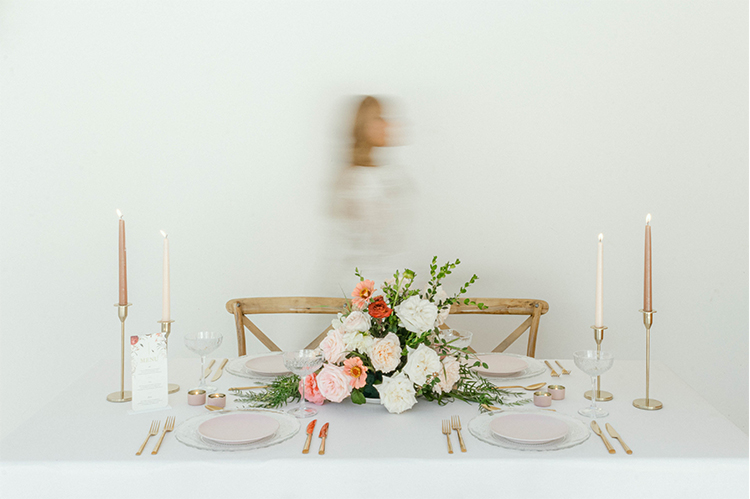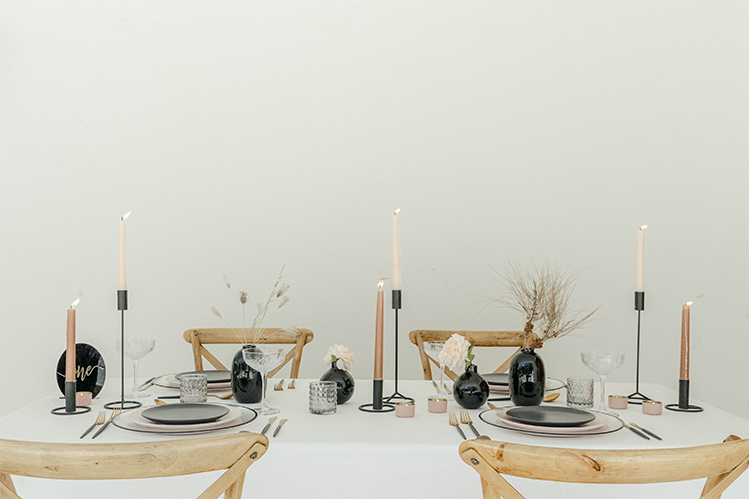 With a venue like Buccara Wildlife Reserve a statement outside ceremony area is absolutely crucial to really showoff the incredible landscapes. Sophia's Roses created a jaw dropping ceremony area that will make even the most classical of brides squeal with delight. A celebration of textures and tones, this masterpiece truly blew us away.
This dream team also helped create two intimate wedding reception looks. The Hire Haus provided the dreamiest table decor pieces with a beautiful selection of candles from Candles4U and stylish linen from The Tablecloth Hiring Company. From concept right through to execution, these fabulous wedding service providers helped create the most incredible reception inspiration for your big day.
THE VENUE
Needing no introduction, Buccara Wildlife Reserve is a secret oasis that calms a restless soul! Expect nothing but relaxation, peace and beauty when you drive through this picture perfect reserve. Nested in the Karoo, Buccara Wildlife Reserve is the perfect venue for a dreamy destination wedding in South Africa.
THE CAKE
The Blõs Bakery team created a stunning two tier soft pink cake and our director, Katherine Ballantyne decorated it with lush blooms from Sophia's Roses which featured that glorious white Dhalia!
WEDDING SHOES AND ACCESSORIES
Known for their modern bridal accessories and shoes, The Adore Collection caters for the modern bride who loves stylish accessories. Offering chic bridal earrings, hair accessories and shoes there is a little something (or two) for everyone! How fabulous are these bridal headbands?

WEDDING JEWELLERY
Terusa Anne Jewellery is a true master of her craft and creates the most incredible timeless jewellery pieces that celebrate love, relationships and special events, which forever symbolise life's special moments and memories. The attention to detail is evident and every single piece a true labour of love.

BEHIND THE LENS
Ah where do we even begin! Bhavika, the beauty and brains behind By Bhavika Photography and Design is truly a master of her craft. From start to finish, Bhavika has been a total dream to work alongside. Providing the most incredible ideas, flawless execution and sound creative direction is truly something to behold. By Bhavika Photography and Design is a notable fine art photographer and her style of photography focuses on images being taken in "natural light to create luminous imagery that is evocative, honest, elegant and timeless" (By Bhavika Photography and Design).
And thats a wrap! Needless to say, our entire team is so elated with the final product and could not be happier. A massive thank you to each and every single collaborator. You are all amazing and we look forward to creating magic again soon. Click on the 'read more' button below to find out just what we got up to at this Modern Boho Bridal Bliss Shoot.
CREATIVE TEAM
By Bhavika Photography & Design | Buccara Wildlife Reserve | Sophia's Roses | Cindy Bam Couture | The Hire Haus | The Tablecloth Hiring Company | Candles4U at Functions & Events | MisterCut | HealthiSkin | The Adore Collection | Terusa Anne Jewellery | Vita Liberata | Blõs Bakery