PLANNING A WEDDING? HERE'S WHAT YOU NEED TO KNOW
My oh my, what a stressful and confusing time this has been. The lockdown regulations have wreaked havoc with so many individuals' special day and the entire wedding industry as a whole. Today we would like to share some important adjustments to the regulations that you will need to consider when either planning or rescheduling your wedding. Level 1 is here bride and grooms-to-be, let's get you married!
CURFEW
The hours of curfew have been adapted and are as follows: Midnight – 04:00. You can still enjoy a beautiful celebration. We would highly recommend starting your celebrations a little earlier so that your guests have enough time to get home before curfew starts.
EVENT CAPACITY
Level 2 allowed for a max capacity of 50 attendees at any event. This included the event staff such as your photographer and wedding planner, but excluded those such as your kitchen staff.
Let's unpack level 1 attendance capacity:
50% of the normal capacity of the venue
Maximum number of guests – indoor gathering: 250
Maximum number of guests – outdoor gathering: 500
HEALTH PROTOCOLS
Certain health protocols will still remain:
Social distancing of 1.5 meters
Wearing of mask at all times
Regular sanitising of hands and surfaces
All guests to be screened and recorded accordingly upon arrival
INTERNATIONAL TRAVEL FOR GUESTS
Travel for leisure, business and other travel will be permitted from October 1st, 2020
Travel from high risk countries will be banned (a list of these countries will be released)
Upon arrival, travellers will need to present a negative COVID-19 test, not older than 72 hours from the time of departure
All travellers who have not done a COVID-19 test prior to departure will be required to remain in mandatory quarantine at their own expense.
All travellers will be screened on arrival and those who present COVID-19 symptoms will be required to stay in quarantine until a repeat test is conducted.
All travellers will be required to download the COVID Alert South Africa app.
FOOD & BEVERAGES
Prior to level one there were restrictions on how food was to be served, for example buffet tables were strongly discouraged
In level 1 there has been no indicated restrictions on buffets or methods of serving food.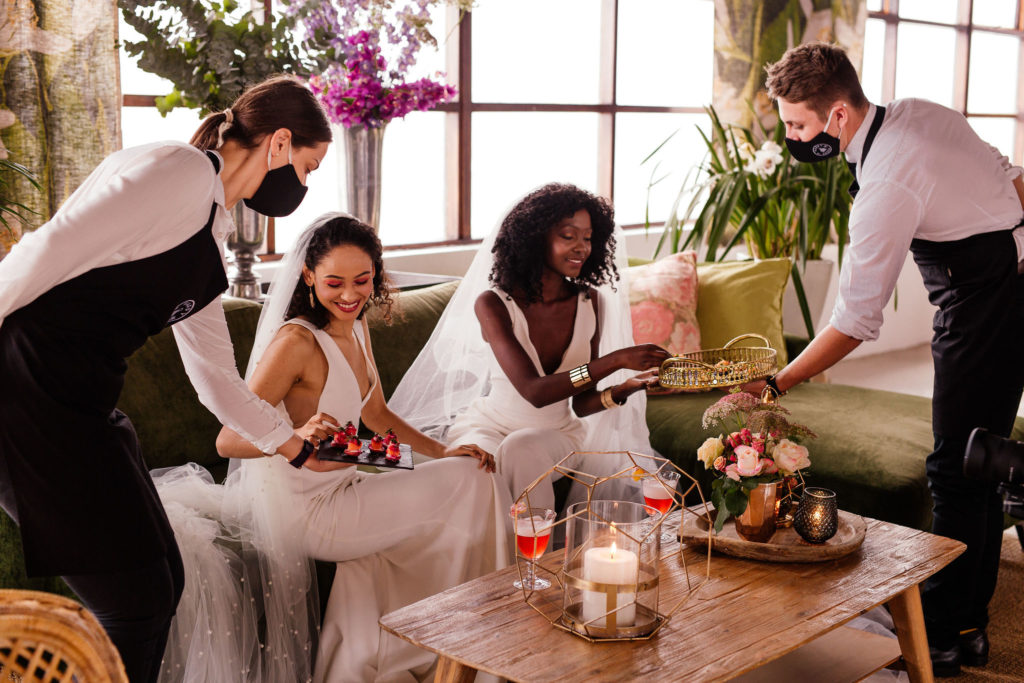 DANCE FLOORS
Dance floors are currently allowed as long as strict health protocols are taken into consideration. Making sure there is enough space for everyone to boogie safely is vital, for health reasons, not only to protect yourself from 'Becky's' questionable windmill dance moves.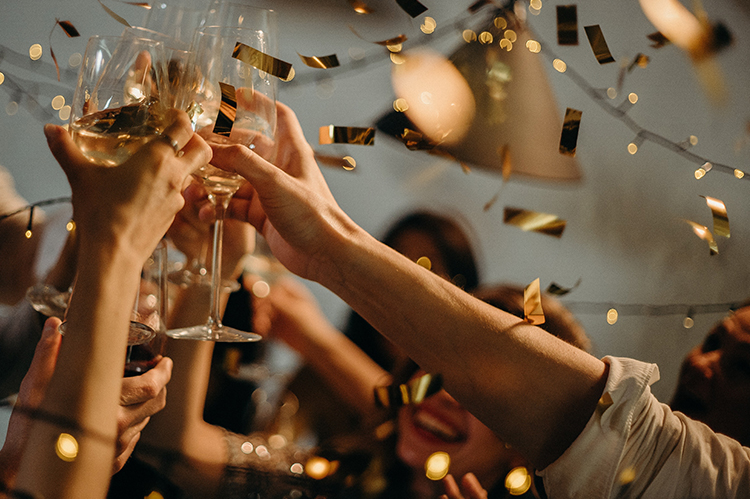 A WORD FROM THE EXPERTS
SafelyWed
Feeling a bit overwhelmed by all the protocols that need to be adhered to? SA Weddings works alongside the incredible team at SafelyWed who is able to make your wedding as 'Covid stress free' as possible.
Cara and Bianca have been friends for 6 years and are co-owners of Cape Town based decor hiring company, The Hire Haus. Together they are a formidable team who would work alongside the bridal couple and wedding venue for a fun and safe day of celebrations, while staying compliant with the Department of Health Covid-19 guidelines. The SafelyWed Team customises a COVID-19 strategy to keep you and your guests safe. They are an on-the-day presence to ensure peace of mind so that the bridal couple and their guests may enjoy the celebrations without worry. Given their vast experience in the wedding industry, their team is well aware of and sensitive to wedding timelines and venue setups.

A great tip that SafelyWed has shared with us is that you could have bands for people – similar to hair bands, placed on guests wrists, but in certain colours. This has been implemented in USA and UK and has worked well. Green for "I am ok with high fives" Orange for "I am ok with talking but no touching" Red for "I am social distancing".