Katinka die Kat shares the lowdown on her intimate forest wedding. 
Covid-19 has certainly put a dampen on weddings and events planned for 2020 but that definitely did not stop husband and wife team, Katinka Productions from starting their forever. Armed with a killer team of suppliers, lots of love and patience and the real essence of marriage – Katinka and Braam enjoyed a fabulous wedding day with their nearest and dearest in a beautiful intimate wedding celebration! Keep reading for the full Q&A.
If bridal goals was a picture! We adore these beautiful snaps
How did Covid-19 affect your original wedding planning?
I think we can introduce Covid-19 as the uninvited guest. We did NOT expect him to show up and did not expect that he would come and take over our wedding planning like he did! We were devastated, as a little girl you always dream about two things, your prince, and your wedding.
I had my Prince, but our wedding was going down hill. We waited for this day for so long, it was frustrating knowing that something we had no control over could take away something as special as our wedding day. We decided that we would do it anyway, however things tumbled again when family members started to get scared. Our accommodation then cancelled, our photographers were unable to travel, so we knew what we had to do. Our original date was on the 9th of May, but I believe that the Lord had other plans. I was on a big Faith journey throughout this entire lockdown, and had to learn to trust the Lord with His plan, not mine. When I accepted that, I found peace with the unfortunate situation that we, and the rest of the world, found ourselves in.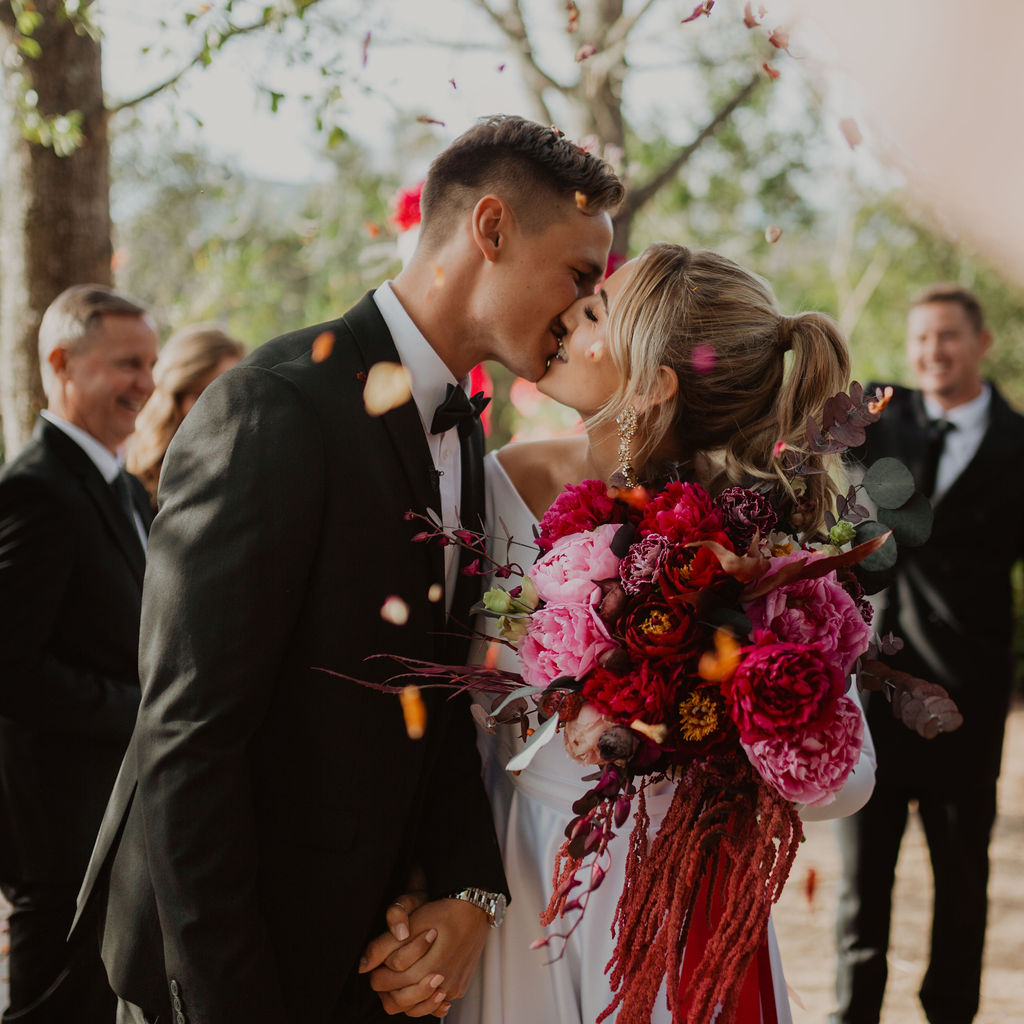 How did you manage to work around the Pandemic? What goes into planning an intimate wedding?
In my mind I have always known that I wanted to have an intimate wedding, and being in the wedding industry ourselves, we thought that it would be amazing to do what we tell all couples to do, ELOPE! haha or just have a small intimate wedding. It's 2020, and it's time we change the industry.
We would use ourselves as examples to show all of our couples that nothing is impossible, and remind both them and ourselves, what the real reason behind getting married is. To tie the knot, with the absolute closest people around you. We had already paid most of our vendors and we knew what we wanted. We knew that booking a venue would be a disaster because not everyone is as "laid back" with a wedding at this time. We searched on booking.com for a place in Wilderness that we love. We had our hearts set on the woods, wanting to be surrounded by nature when we said I do! We booked some chalets, and phoned afterwards to let them know that we want to get married there with 10 guests! Despite the owners shock, they eventually agreed, wanting to help us to do the right thing by getting married to honour the Lord, to become one and be in a covenant. We saw a lawyer to write up our contract, confirmed with our pastor, legalised our marriage in the church, organised the bouquets, packed the Persian carpets and hanging lights, the bluetooth speaker and last but certainly not least, my wedding dress and there we went!

How was your planning process during lockdown?
The planning process was stressful. Despite the intimacy of the wedding, we had to constantly keep our guests informed every step of the way, while simultaneously packing for our move to Cape Town to start our new chapter as a married couple. The time put in our hands from a national lockdown did, however, make people pretty persistent with their replies which is a major plus when planning your big day!
Tell us about your day. What were the highlights?
The day arrived and it was absolutely stunning. I cried tears of both happiness and relief, after 2 months of uncertainty we could finally tie the knot and start our lives together. The highlights was the walking down the "aisle" alongside my dad with "selah" by Kanye west playing. Nature surrounding us created the most beautiful atmosphere. Seeing the emotion in my husbands face at the end of the aisle, filled me with joy and there was no doubt in my mind that this was the man I wanted to spend the rest of my life with.
I had the best time on the dance floor, I love dancing, I did not expect that a small intimate wedding would have me swinging and hip hopping throughout the night! Our first dance was incredible and after, we sat down to have burger king! Hands down the best choice you can make for wedding food. Everything was perfect, I would not change a thing, looking back, having this small wedding was perfect and reflected us as a couple. We actually had time to sit down and relax, we could chat with everyone, it was lovely, and for those of our loved ones who couldn't make it, we streamed the wedding so they could feel as if they were there.
Where did you get married?
We got married at Clairwood Chalets in Wilderness. They do NOT usually do weddings.
What was the inspiration behind your wedding look?
There wasn't really a specific "look" I was going for. I just stuck to what I knew and my usual vibe and went with a ponytail and big earrings. The dress was a bit more plain so that I could go big with my earrings. I don't do the cold, so I went with long sleeves which worked perfectly for the day.
SUPPLIERS INVOLVED
Photographers & Videographers: The Geldenhuyses'  | Dress: Anri Ham Bridal 
Hair: Ruan Aucamp |  Makeup: Flawless makeup by Bianca | Flowers: Yes! Exclusive Flowers Yes! Exclusive Events| Venue: Clairewood Chalets | Rings: Ring Artisan and Hashtag Bamboo