How to create your dream wedding mood board
You have got the ring and you have officially started planning your wedding. With a multitude of inspiration sites and ideas, creating a wedding mood board can very quickly become overwhelming. We really suggest creating physical mood board or opt to use a digital platform like inVision or Pinterest to create your board.
Not only will it help categorise your thoughts and ideas, but it will help you see your vision for your big day clearly. Having this on hand is also beneficial when meeting with your suppliers as it will help hone in on your preferred concept and help translate your vision into something tangible for your wedding day. Continue reading to see how you start compiling ideas and inspiration for your wedding celebration.
---
CHOOSE YOUR COLOUR PALETTE
Choosing your colour scheme is the best starting point for your big day. As you begin envisioning the way your wedding looks, colours will start popping into your head. Try to work with a few base colours and then add a few accenting tones to either add weight or accent your colours. If you are working with a moody palette, we suggest accenting with a few lighter tones such as shades of pink or cream to add freshness to your look. Once you have an idea, start compiling your shades in an easy to follow manner so that you can see how they work as a collective. You will already be able to determine if you should simplify the palette at this point. Experiment with various hues of the same shade to create an interesting and unique colour palette. You may even see yourself deviate from your original palette as you allow the creative side of you take over. When experimenting with your colour palette, keep your venue in mind and see how you can best enhance the space using textures and colours.
We love these colour palettes from Forth + Wild
FIND INSPIRATION IN WEDDING GALLERIES
SA Weddings provides the most incredible wedding galleries for all brides and grooms-to-be HERE. Scroll through these focused galleries and start compiling the ideas that you like. It is always important to keep how you would like your day to run, what you would like your guests to experience and where you would like it to happen at your venue top of mind. This will help you to categorise your thoughts and concepts into doable tasks. If you are getting married at a venue that boasts a beautiful garden and you are thinking of doing pre-drinks there, save ideas on lounge pockets, beverage stations to your mood board. It may also help to categorise these ideas on separate pages so that you have something to refer back to always when conversing with your wedding suppliers. There is nothing worse than a mood board that has no order.
Save your colour palette, ideal look and feel, lighting ideas, textures, flowers and more to your moodboard!
HONE IN ON YOUR DECOR LOOK & PREFERRED FLORALS
Now that you have an idea of the overall look of your wedding, it is time to really pay specific attention to your desired decor and floral look. Save ideas on reception table ideas, ceremony ideas, bouquets, pre drinks and more! Be quite specific on how you would like it to look. Save place setting ideas, cutlery options, napkins, stationery, florals, installations and more. Try and keep it quite close to your colour scheme so that you can create a cohesive and structured look and feel for your wedding suppliers to work from. View our table setting gallery HERE, bouquet gallery HERE, wedding furniture gallery HERE and ceremony gallery HERE. For more inspiration view all of our galleries HERE.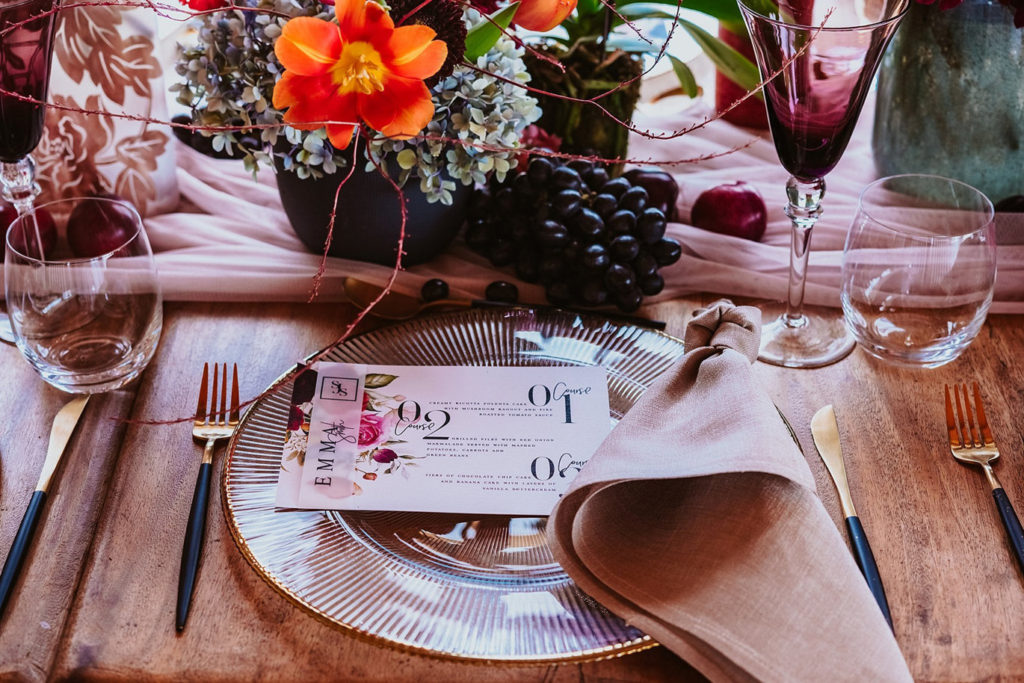 STAY FOCUSED
Now that you have detailed specifics around your wedding look and feel, it is important that you stay focused. When conversing with your wedding suppliers, it is of paramount importance that you stay focused when discussing your concept. Refer to your mood board and allow the professionals to help direct wedding vision into a tangible idea. You are guaranteed to be all smiles on your wedding day.