Chic intimate wedding inspiration for the bold modern bride!
Together with a dream team of wedding service providers, we partnered up to create Fringed & Fabulous. With the rise of small scale wedding ceremonies and celebrations, this hot off the press intimate wedding inspiration is sure to make you squeal with delight. Think bold colours, fringed ceremony space and a delightful romantic garden inspired reception – this shoot encompasses all the things we LOVE! Without further ado, we present a sneak peak of Fringed & Fabulous. Level 1 weddings for the win love birds!
---
CEREMONY + RECEPTION
Small doesn't need to be boring! Even with a downscaled celebration, intimate weddings can be ultra fabulous. Turn those wedding dreams into a petit chic celebration just like Petals Group, Top Table and The DJ Company did here! The concept was born with a desire to showcase how a smaller function can still have maximum impact. Add a little bit of disco chic, statement installations and a dessert station of dreams and you're ready to rock and roll. Whether you're at a venue or kitting your backyard out, these ideas can quite easily be adapted into your own kind of wonderful.

BRIDAL LOOKS
The 2020 season calls for a bit of extra glam when it comes to your bridal look and The Wedding Boutique have just the gowns you're looking for. Let's face it, 2020 was a tough year and you deserve to be more than fabulous! Think hair bands and accessories, florals, bridal hats, dewy skin and striking pops of colour on the eyes or lips. The bridal looks from Bernice Frylinck Hair & Makeup was a combination of striking minimalistic looks and chic romantic wedding dresses. Both a hot trend for this season, we're certainly not complaining if we see more of these bridal looks in the 2021 wedding season!
FOOD + DRINKS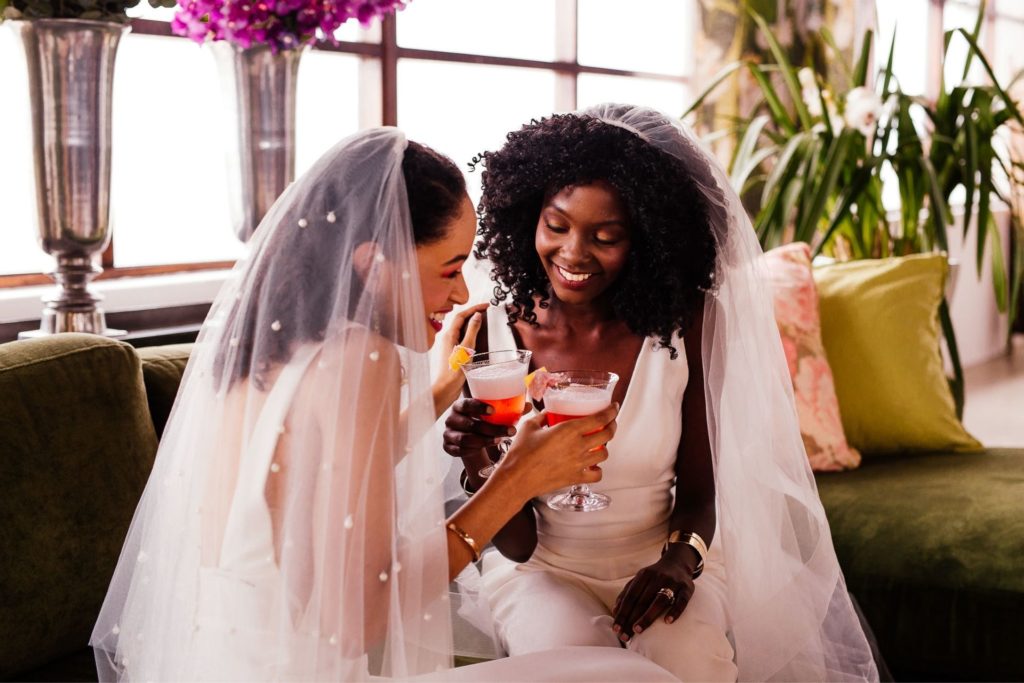 An intimate wedding allows for more attention to detail when it comes to giving your guests the full experience. Inverroche Distillery came in hot and created three signature cocktails for you to serve at your celebration. If you're keen to add the WOW factor to your big day, be sure to check out the cocktail recipes HERE.
Nothing but heart and soul poured into every single edible delight created by Annalize Catering. Chef Ollie certainly wowed the crowd (and our tastebuds) with his mouthwatering canapé's! If you're on the hunt for wedding caterer that will leave a lasting impression on your guests, you heard it here first!
THE VENUE
Needing no introduction, THE VIEW at Infinity Studios is every bride and groom-to-be's dream wedding venue. Located in Cape Town, this show stopping event space boasts panoramic views of Table Mountain and the Harbour. Think high ceilings, golden natural light and the perfect blank canvas to execute a memorable celebration.
DESSERT STATION
Anmar from Crumb Cakes is no stranger to the limelight and boy-oh-boy, was this the dessert station of all dessert stations. At the forefront the wedding trends for the 2021 season, Anmar is the ultimate bridal bestie. Everything looked as delicious as it tasted and WOW was there a lot to taste. A perfect combination of tones, tastes and textures, Crumb Cakes blew us away and we cannot wait to see what the intimate wedding season has in store for this powerhouse baker.
WEDDING STATIONERY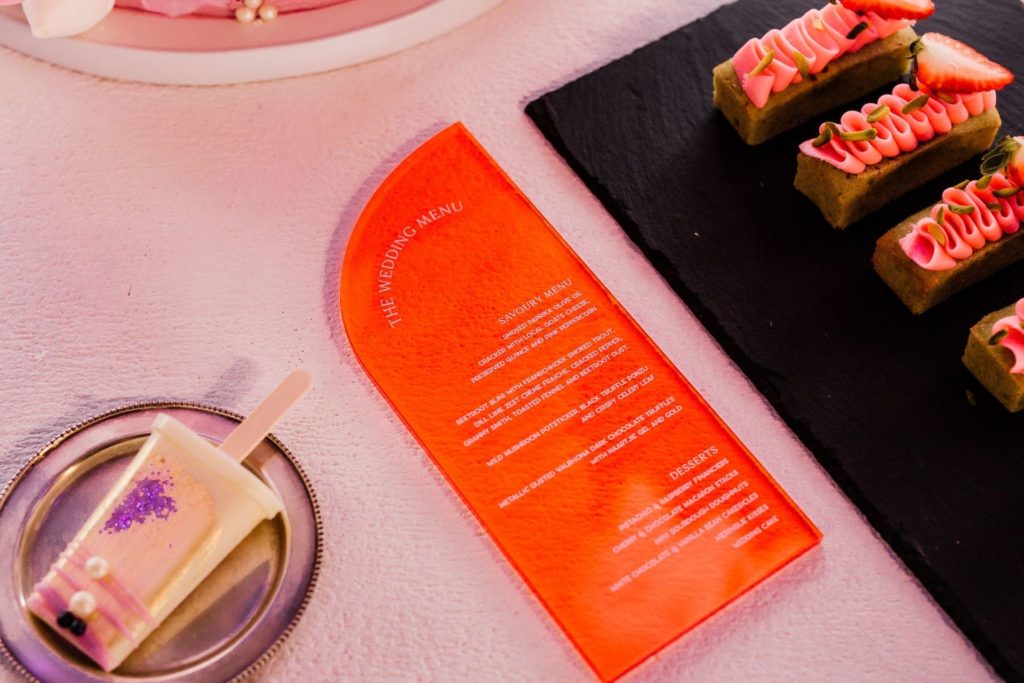 No wedding celebration is ever complete without chic wedding stationery and Fleur Design Studio certainly is no stranger to creating magical wedding stationery pieces. With a talent for combining typography, layout and different mediums, Fleur Design Studio is the go-to for one of a kind memorable designs.
LIVE ENTERTAINMENT
Acoustic Element is known for bringing the vibe and stylish outfits to your wedding celebration! Not only do these suave guys look the part but they sound it too. Big or small, they know how to read a crowd, keep them pumped and bring that extra element of extraordinary to your wedding or event. If you're on the hunt for sensational live wedding entertainment, you heard it here first!
SERVICE STAFF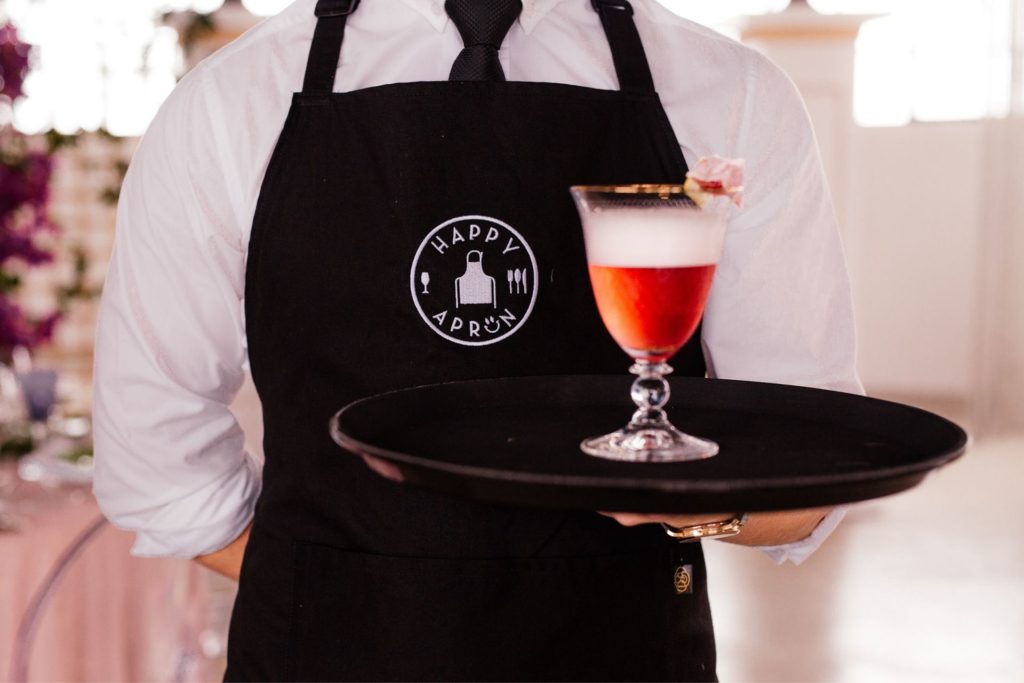 You know you're in very capable hands when Happy Apron is part of your wedding dream team of suppliers! Smart, professional and well trained, these guys certainly are an asset to any event celebration – no matter how big or small.
If you're worried about Covid-19 safety at your wedding, we have the answer just for you! SafelyWed works alongside the bridal couple and their service providers to ensure safety for all. Take this task off your shoulders and hand it over to a team who will ensure you can enjoy a safe day of celebrations.
PHOTOGRAPHER + VIDEOGRAPHER
Of course none of the magic can happen without the incredible team behind the lens! Gustav Films & Kovacevic|Bosch, you certainly outdid yourselves. Gustav captured the essence of the entire day in this incredible highlight reel. It takes a village to bring a concept to life and Gustav captured the magic of the day in all of its splendour. 
Lisa- Marie from Kovacevic|Bosch needs no introduction. One half of this powerhouse wedding photography and videography company, Lisa handled the shoot like an absolute pro! Capturing every single detail with the utmost precision, the images speak for themselves! If you keen to see more of what we got up to and the amazing service providers, click on the button below for the full scoop!
CREATIVE TEAM
Fleur Design Studio | The Wedding Boutique | Top Table | THE VIEW at Infinity Studios | Inverroche Distillery | Bernice Frylinck Makeup & Hair | Petals Group | The DJ Company | Safely Wed | Kovacevic|Bosch | Annalize Catering | Gustav Films | Happy Apron | Crumb Cakes | Acoustic Element