Ladies, the event of the season is fast approaching and we want you to be part of it! If you haven't entered yet, fear not girls there is still time. We promise you this an event not to be missed. Our top 12 couples are treated to an all expenses paid weekend away as they compete for the all important title of Bride of the Year 2019. Look forward to five star accommodation at Vrede en Lust, a luxurious Friday night dinner at Boschendal Estate, Gala evening at Marlenique Estate, spa treatments at the one and only Santé Spa, a full bridal glam squad to do your hair and make up on the day of the event, a massive prize hampers, cash and more! If that's not enough, an incredible island honeymoon is up for grabs worth over R150 000 for the winning couple! Yes please.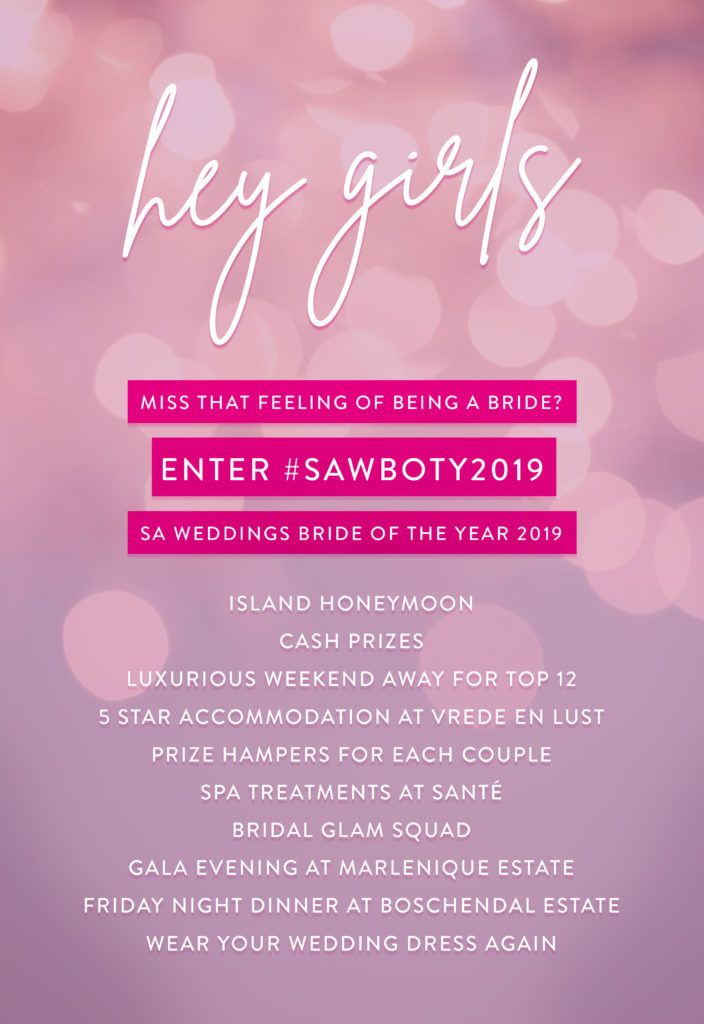 Ladies, increase your chances of winning by voting using SnapScan or purchasing bulk votes. The bride with the most votes in her month will compete at the gala event on 06 June 2020 at Marlenique Estate. If you are a little unsure of how voting works, simply click HERE for more information or email one of the very friendly (and beautiful) faces at SA Weddings. Be sure to subscribe to our newsletter to keep up to date on the happenings of this prestigious event. Every second week, we release the Top 30 brides in each month so be sure to keep up to date on the progress of your profile! Ladies, we simply cannot urge you enough to SHARE, SHARE, SHARE! Sharing your profiles on social media not only increases your chances of building up more votes but it also showcases your incredible wedding dream team! Show them some love and ask your service providers to do the same. After all sharing is caring and the more visible your profile, the better your chances of gaining some extra votes! #insidertips
E N T E R  B R I D E  O F  T H E  Y E A R   2 0 1 9  H E R E
Ladies, this competition is a celebration of YOU and we want you to showcase your dream wedding day and all of the incredible facets that made up your forever fairytale. Whether you had a black wedding dress or decided to go with a traditional outfit in bold and beautiful colours, we want to see it. Don't hold back girls, put your best foot forward and keeping urging your lovely friends and family to vote for you! We cannot wait to meet you and see you strut your stuff down the ramp at the gala event!