THE ULTIMATE BRIDAL BONDING EXPERIENCE IN CAPE TOWN
Is there anything better than spending some amazing quality time with the leading ladies in your life before the big day? If you're saying YES to all of the above, keep on reading. New to the wedding scene, Donna Kennedy has created a unique offering for brides-to-be and their bridal parties with her bridal retreats in the comfort of your own home or venue. Who could possibly say no to a pre-wedding celebratory retreat?! I mean, weddings are stressful and the leading ladies of the moments deserve it right?
Beautiful Faith Raubenheimer and her girls were treated to an amazing bridal retreat filled with all things wonderful, carefully coordinated by Donna – the owner of healthi by Donna. Faith and three of her bridesmaids were treated to the most amazing bridal spoil for some much needed bonding before the big day. It was a day filled friendship, love and a whole lot of TLC.
---
When I began my wedding planning journey, I fully committed to it! That meant subscribing to the best blogs to receive all the cool tips and hints about planning weddings that they had to offer. Even though I am an event planner myself, I found all the articles on SA Weddings to be super insightful and great reads. Naturally, I came across the Bridal Retreat competition that Donna Kennedy was hosting with SA Weddings and I HAD to enter. When I got the e-mail saying I had won, I actually screamed!
Fast forward to the week of the wedding. Blake and I are Jewish and we spent a full 7 days apart – as is tradition. The Bridal Retreat was the first pre-wedding event, and I'm so glad this was how I started the week leading up to my wedding. It was so good to be with my bridesmaids and just be present in the moment – letting everything sink in, while taking a few (much needed) deep breaths.
ORDER OF THE DAY
Faith and her girls started the day at a beautiful Villa in Bantry Bay. Donna and her incredible handpicked team were waiting for them eager to start the fabulous retreat. Could there be anything better? After a brief overview of how the day would run, the bridal party started off with a 1 hour Vinyasa Yoga class led by Donna herself. Talk about a personal experience! Not only does this practice help calm the mind and increase focus but it places emphasis on endurance and strength training. The various poses are done in quick succession, helping you build muscle strength while improving your fitness. The perfect energetic start to get your body relaxed and calm.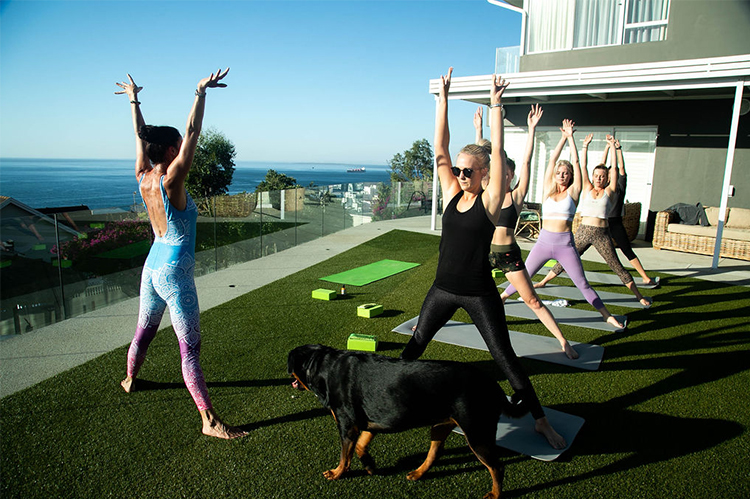 I'd never done a yoga class like the one Donna hosted. What stood out for me was the multi-sensory journey Donna guided us through which included essential oils, breathing techniques, meditation to calm the mind and a beautiful class that was tailored to myself and my bridesmaids – as Donna and I had discussed what we wanted to get out of the class in the weeks leading up to the Bridal Retreat. Getting to know Donna Kennedy in the months leading up to the wedding was just as much a treat as the actual Bridal Retreat itself.
Donna made the entire experience so incredible with her hands on and personal approach. As you can see, she is there every step of the way guiding the girls and helping them adjust their posture to really get the most of out their yoga session. How divine? The session ended off with a delicious and oh-so-yummy berry smoothie.
AROMATHERAPY MASSAGES
Massages with a view – could there be anything better? After the Vinyasa Yoga class, Faith and her bride tribe were treated to a luxurious 1 hour aromatherapy massage. Donna's handpicked team of therapists ensured they were all treated to a relaxing massage to relieve the pressure and stress that comes with wedding planning. With a dedicated masseuse to each woman, the massages were the ultimate treat!
The massage was pure bliss – and the most magical way to end off this amazing experience. It's so important to take a moment to breathe – be present – in the week leading up to the wedding and I would seriously recommend brides try and add a Bridal Retreat like Donna's to their pre-wedding inventory.
HAPPINESS COACH
This beautiful day ended off with Organic Bubbles and a personalised 1 hour session with Happiness Coach, Tammy Godsall. No stranger to the limelight – Tammy is passionate about creating happiness, passion and purpose in individuals, educating you with her inspiring coaching tools and tips to create more happiness within. Our bride tribe enjoyed every single second of it and left the gorgeous villa with an incredible set of tools to make sure that finding their true happiness is always top of mind! Visit Tammy Godsall Instagram page HERE or website HERE.
The Happiness Workshop with Tammy was incredible – we all felt the warm fuzzies afterwards and I absolutely learnt some important life lessons that I still use today.
---
There is nothing more special than having your bridal bonding professionally captured. The leading lady behind the lens is none other than Robyn West Photography. Aiming to create not only a beautiful memory with her photographs, but also an unforgettable experience for her clients – Robyn made sure that all the moments that matter were captured in her captivating raw and honest way. Her love for people and her outgoing personality makes all her photoshoots fun and memorable! If you're keen on booking Robyn West Photography for your BIG day, be sure to visit her Facebook page HERE or Instagram HERE.
And there you have it ladies! If you're keen on your own Bridal Retreat, be sure to contact healthi by Donna today. You're in for a massive spoil girls. Follow Donna's amazing work on Facebook HERE or Instagram HERE.