A REVIEW OF OUR STAY IN THE BEAUTIFUL CAPE WINELANDS
It is always our pleasure to be invited to stay at our service providers incredible properties and boy oh boy was our stay at the Franschhoek Cellar an absolute treat. Franschhoek is known as a destination of necessity and once you've visited this quaint Boland town, you certainly know why. Keep on reading to see how incredible our stay was at the picturesque Franschhoek Cellar.
---
Franschhoek Cellar is a beautiful asset to this picture perfect wine town. Nestled amongst the vineyards, this stellar property boasts the most incredible views in the heart of the Boland. Enjoy leisurely country life as you feel the stress of city life simply melt away. Not only is this working wine farm the perfect country escape but it offers its discerning clientele a word class wedding and event space. Look forward to wine tastings paired with Belgian chocolate or handmade cheese or if you fancy, you can dine alfresco style in their beautiful gardens. Not leaving the men out, the guys can enjoy a cold one in their bistro and beer garden Franschhoek Cellar has a little something for everyone ensuring your stay is unique and magical!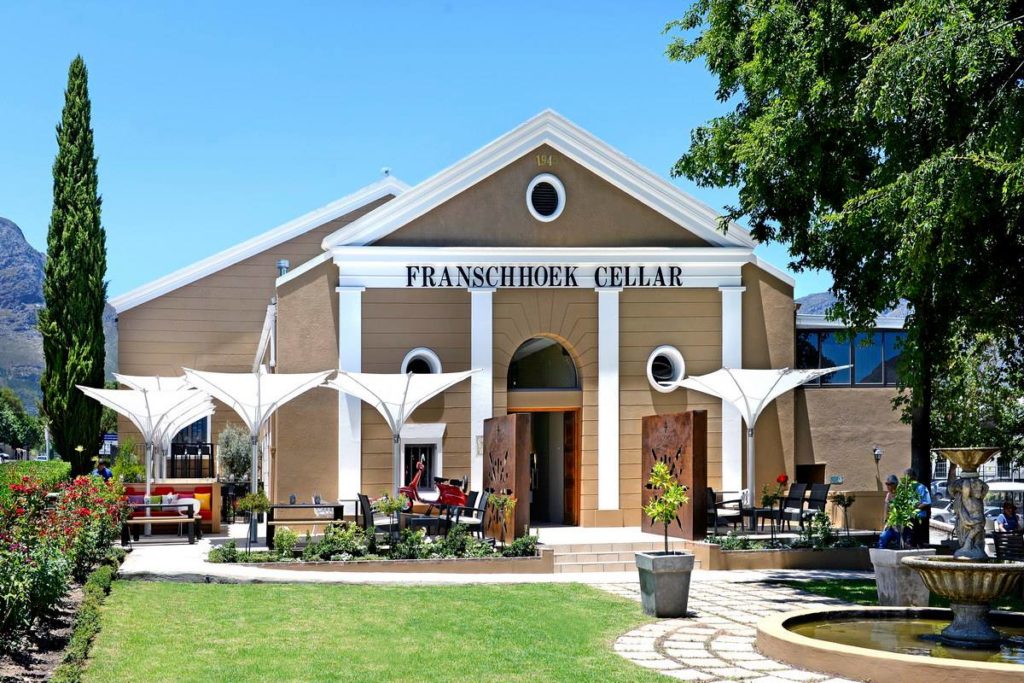 O U R S T A Y
Kath (Creative Director SA Weddings) and I enjoyed a lovely night stay in The Rose Cottage. With the hustle and bustle that the end of year brings, our stay at The Rose Cottage was just what the doctor ordered. Adjacent to the working wine cellar, this gorgeous cottage was designed with comfort in mind and needless to say, it delivered on all of the above. The cottage is self catering allowing you to come and go as you please – perfect for a business trip. The chic interiors complete with lovely leather accents, fur throws and the coolest fire place makes this cottage feel like a home away from home. Needless to say, the cottage had absolutely everything we needed to make sure our stay was comfortable and relaxed.

As any wedding industry professional will know, sleep and slumber is of utmost importance during season time and WOW did we enjoy a night like no other. The Rose Cottage is complete with two ensuite bedrooms and sleeps 4 comfortably. The bedrooms and bathrooms are elegantly decorated ensuring you are constantly surrounded by a feeling of calm and serenity. If you're a bride to be, the cottages at Franschhoek Cellar receive a stellar 10/10 for great vibe, comfort and relaxation. A mere hour from Cape Town, Franschhoek Cellar is the perfect base from which to explore the Winelands at its finest.
Needless to say, we enjoyed such a wonderful time at Franschhoek Cellar and would recommend this incredible property to all our brides and grooms. Whether you choose to say 'I do' or enjoy a romantic break away, Franschhoek Cellar will ensure your stay is nothing short of magical. Thank you so much for an incredible stay – your hospitality and generosity knows no bounds!